When I was younger and people would ask me what the best gift I have ever received was, I would say my little brother, Adam. While I love him dearly, the best material gift I have ever received would definitely be a dollhouse from my grandfather for my 5th birthday. I have had a lot of fun over the years painting, re-decorating, and adding to it. It still lives at my parents house and I hope someday we will have room for it in our home.
When Catherine was little I found this dollhouse bookshelf from Ikea and thought it would be fun to start decorating a simple dollhouse for her to play with. However, once it was assembled she kept putting her little Sesame Street friends inside to take a nap. It seemed like a fun challenge so I started thinking of how to turn it into a Sesame Street dollhouse.

ELMO'S ROOM- First up is Elmo's Room, inspired by the new Elmo's world set on Sesame Street. When I first started I didn't realize the original set design had changed from its simple crayon drawn design. While that would have been a lot easier this was a lot more fun!
I used scrapbook paper for the walls and floor, and cut out clouds and the Elmo's World sign for the walls.
I made the curtains, bedspread and pillow from extra fabric I had left from this party, and added a window that looks into Mr. Noodle's yard. The shelf is made of craft wood I cut and painted and I made the radio from clay.
The train set is from Hobby Lobby and I made the tracks from brown paper.
The nightstand and dresser were part of the original furniture that my grandpa made- I painted over the original wood to match Elmo's furniture. The rocket and picture frame of Elmo and Abby are both necklace charms I found at Hobby Lobby.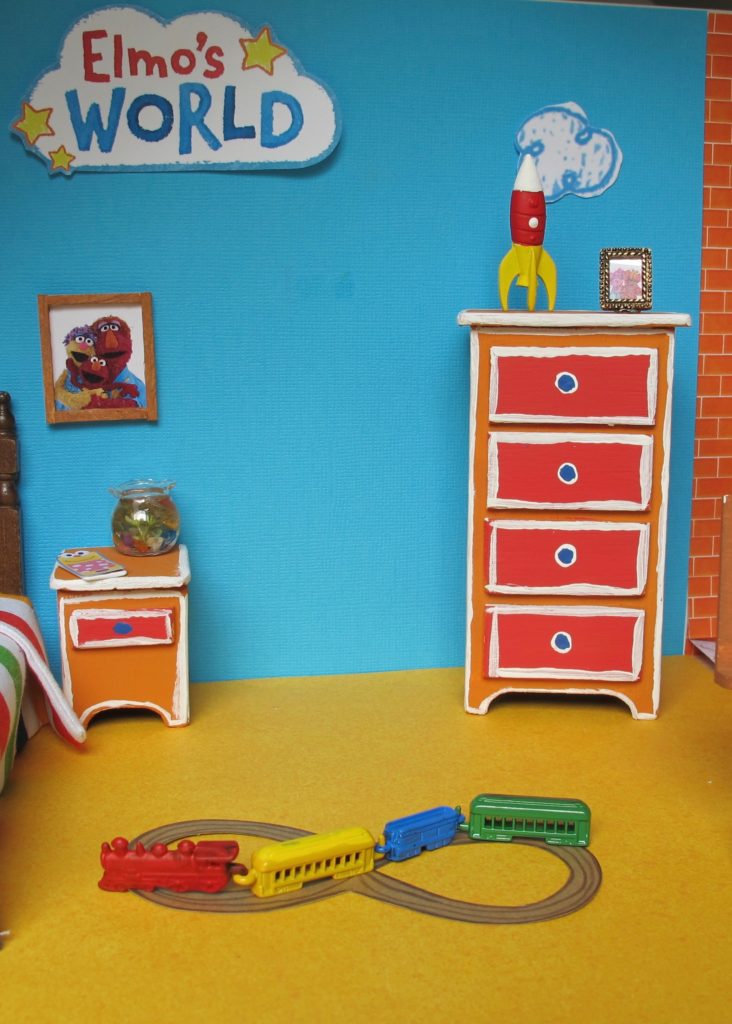 I made the bookshelf from some craft wood and printed off tiny images of Elmo books to made the books. The easel is from my old dollhouse that I painted brown and I 'painted' on the paper with colored pencils.
ERNIE'S BATHROOM- Next up- Ernie's Bathroom! I thought it would be fun to make this room orange, so I designed an orange brick pattern and printed it for the back wall. The bathroom floor is also scrapbook paper. I bought this bathroom set from Melissa & Doug and painted the bathtub orange.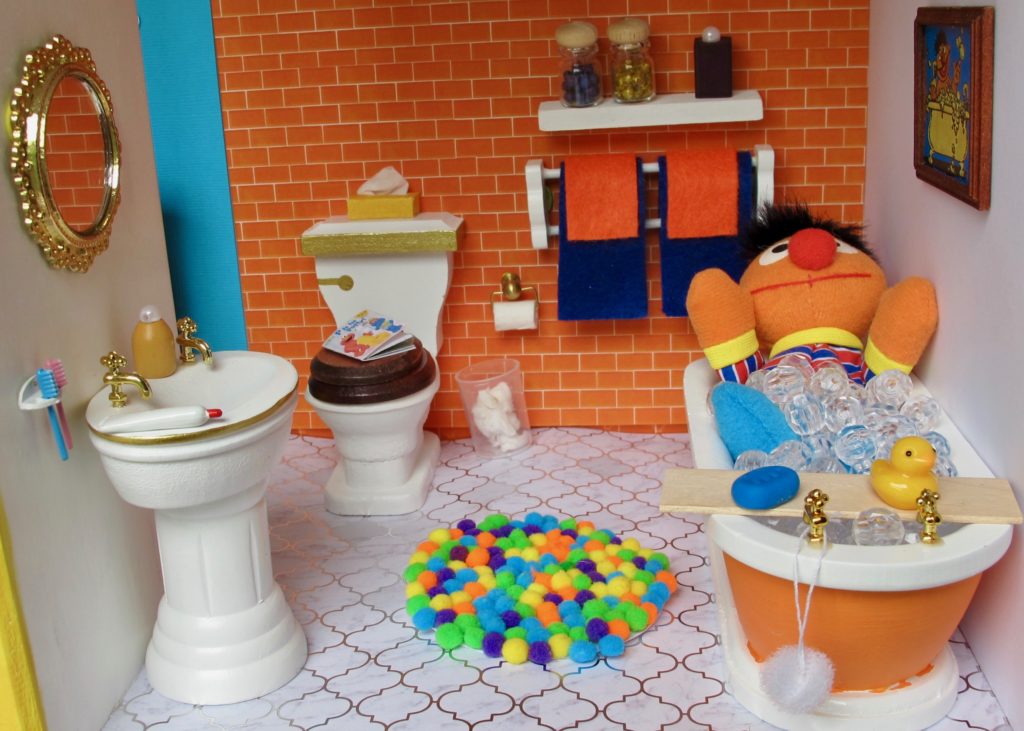 I made the shelf from craft wood and painted it white, and the towel bar is part of the bathroom set that I took apart. The towels are little pieces of felt I had left over from my daughter's quiet book. I found the little glass jars at Hobby Lobby and filled them with sprinkles, and the waste basket is the top of a hair spray bottle.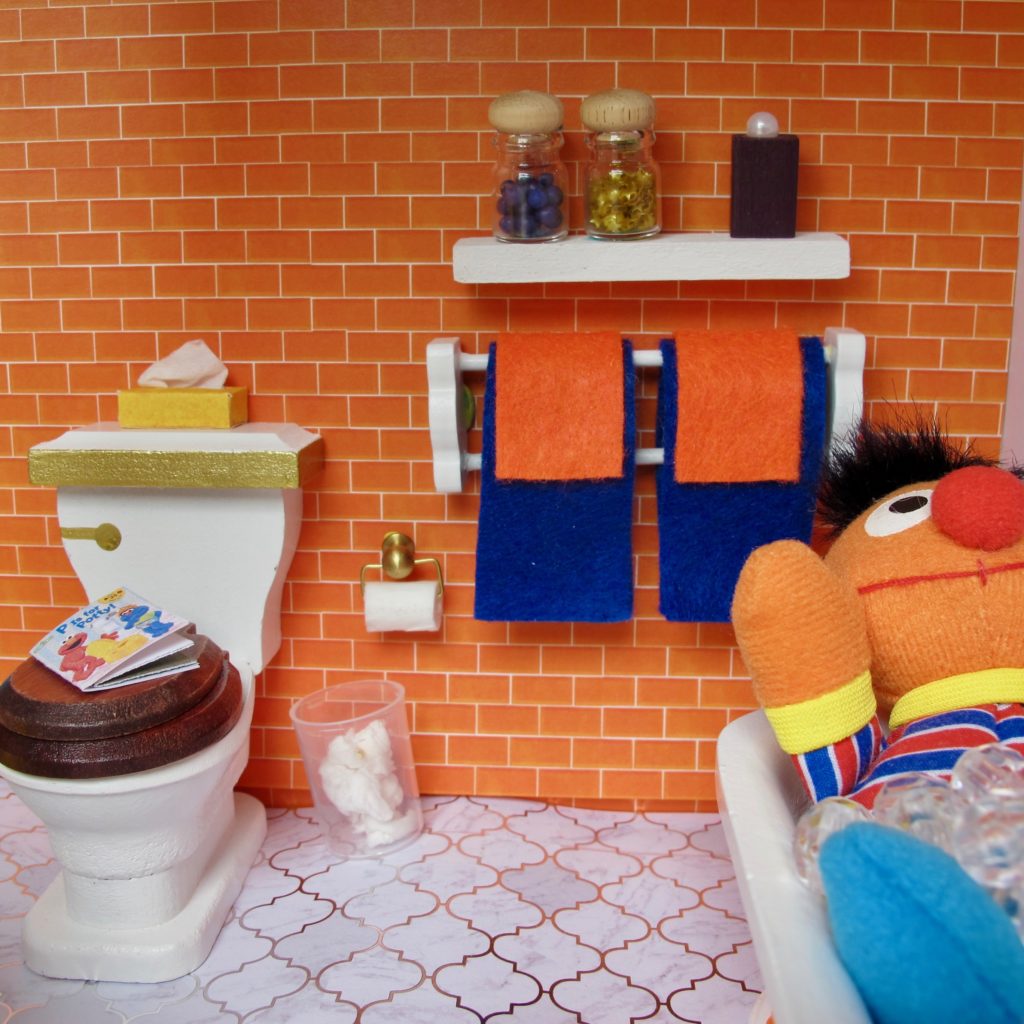 Ernie's bathtub is my favorite part of this room. The bubbles are plastic beads and the blue soap is made from clay. I made the little rug using tiny pom poms glued to some cardboard.
That completed the top floor of the dollhouse. Next I'll be sharing the bottom floor- Cookie Monster's kitchen and Bert & Ernie's bedroom.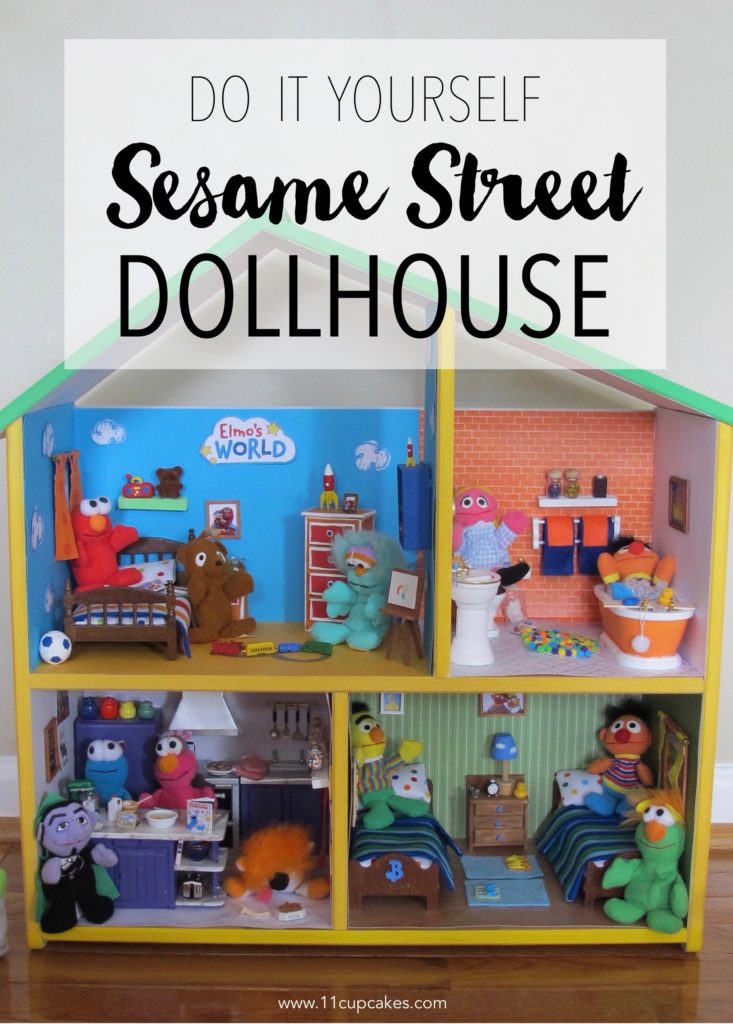 Happy Crafting,