My Grandpa built me a dollhouse for my 5th birthday, and 30 years later I gave it back to him. For the past 6 months I have been transforming the tiny house into a replica of my grandparent's house circa 1999, re-creating some of my favorite memories of holidays and summers gathered together as a family at their Minnesota lake home. The remodel started when my family got stuck at my parents during the stay at home orders, and when it looked like we would be there a while I dusted off the old dollhouse to create something new. The original plan was just to make it look more modern. Then I got the idea to make it a miniature version of my favorite place on earth. Although it only stands 3 feet tall, it is full of tiny details and some of my favorite childhood memories.
In the living room you'll find the matching crushed velvet chairs where my Grandpa always sits to do crossword puzzles, and a picture of Peggi – their sweet springer spaniel who was by our side on every picnic, nature walk, and pontoon ride. The area rugs are exact replicas of the ones adorning their hardwood floors, which I made by taking pictures of the actual rugs, shrinking them down on my computer, and printing on fabric paper. A miniature tea cart sits in the corner, adorned with a metal tea set, vintage lamp, and family scrapbook that fits in the palm of your hand.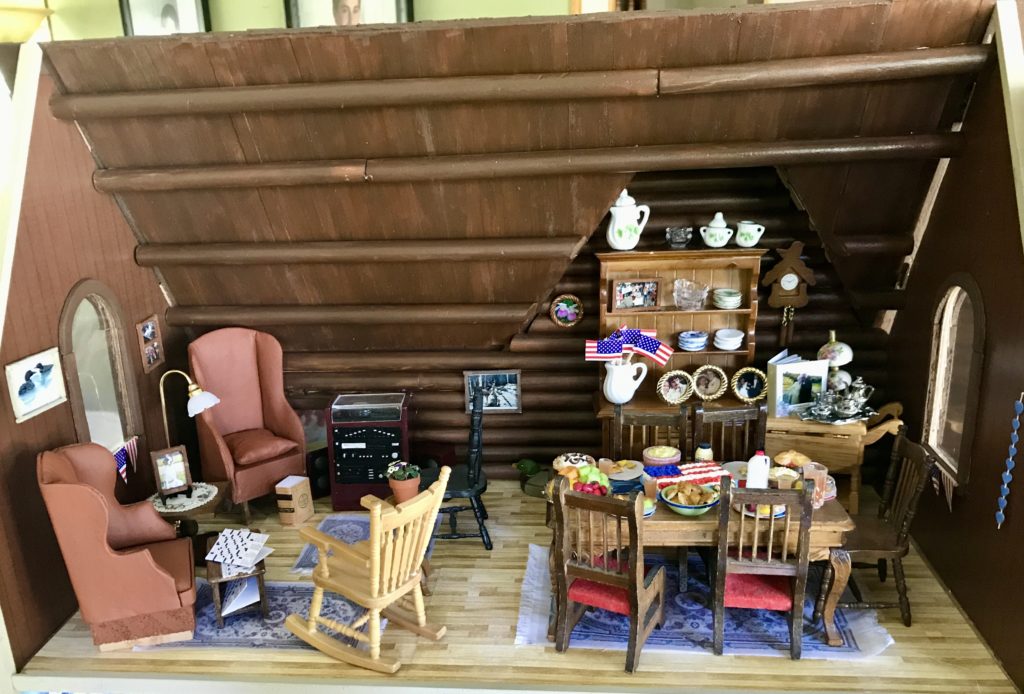 The kitchen features blue walls with a country goose border, a wooden corner cabinet and desk, tiny bifocals, and a hall rack. To create the Easter festivities, I shrunk a 1994 page from the Brainerd Dispatch newspaper and rolled eggs from clay.
Head downstairs and its Christmas. The basement features my grandparent's bright green carpet, wood paneled walls, tiny family photos, built in bookcase, and pool table. Look around and you can see the Christmas tree being decorated with tiny ornaments and tinsel, and wrapped presents waiting to be opened. Each of our home-made stockings hung from the fireplace.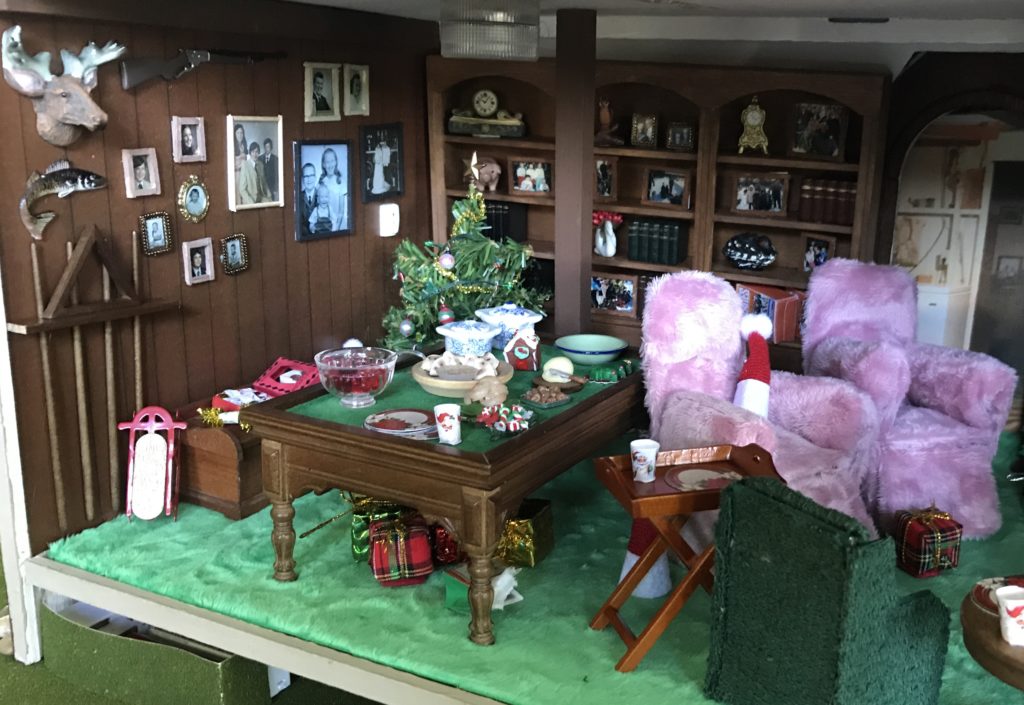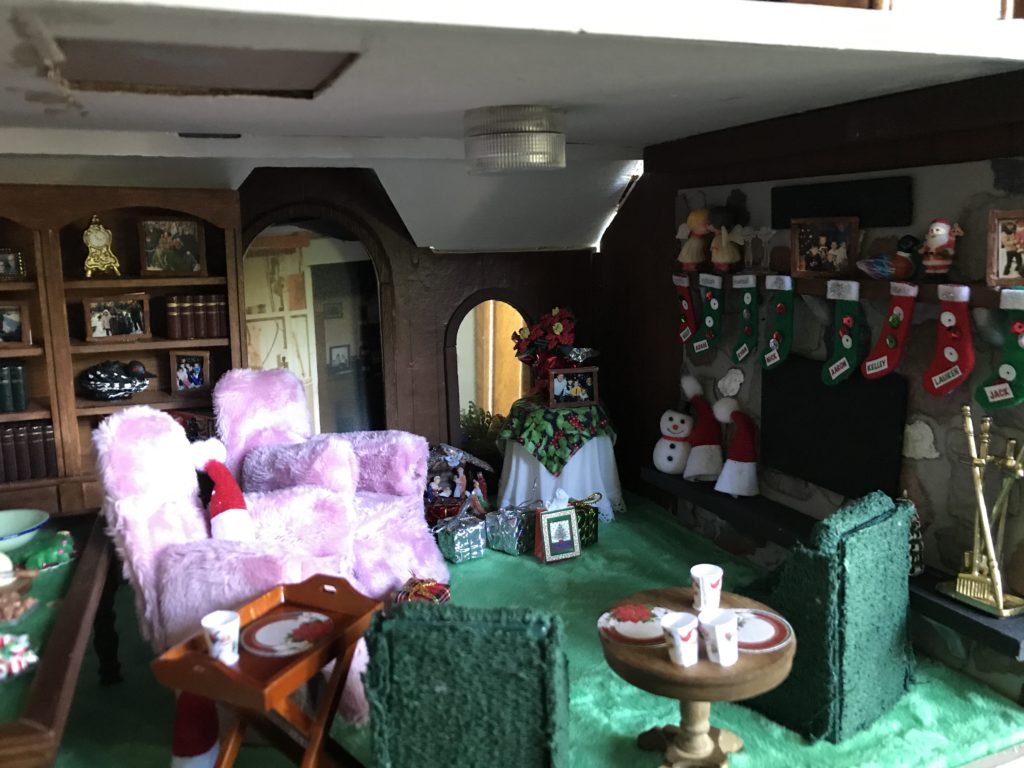 Finally, step into the yard to find stone landscaping, a brown bench and green galoshes, a pink rose bush, and plenty of beautiful flowers and butterflies.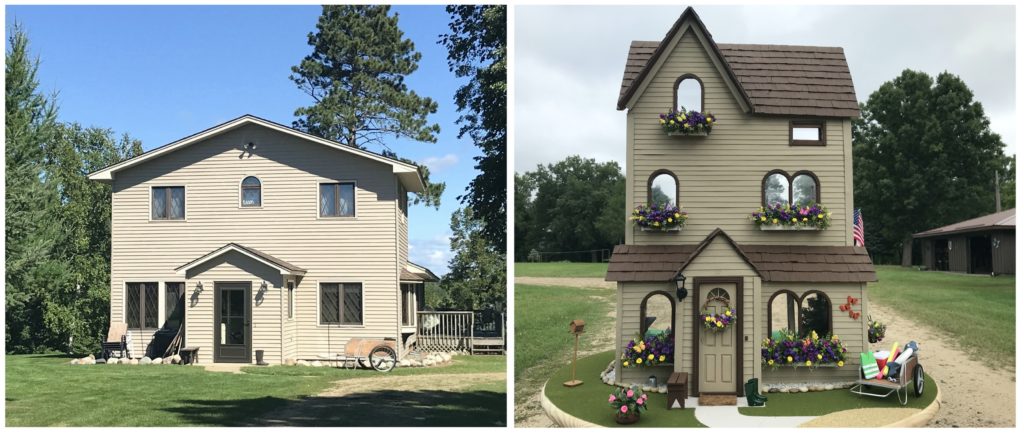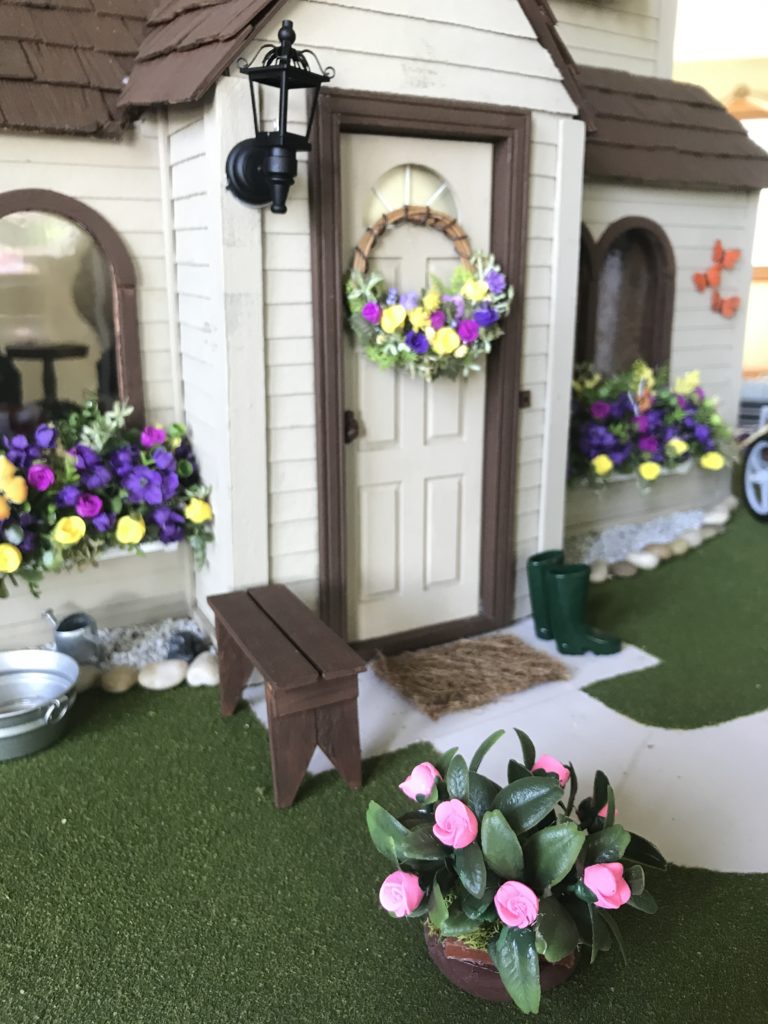 When building the chimney, my grandpa had a butterfly hidden in the rock formation in celebration of my Grandmother's love of butterflies. I did the same when constructing the matching chimney using cardboard and egg cartons. Can you find them both?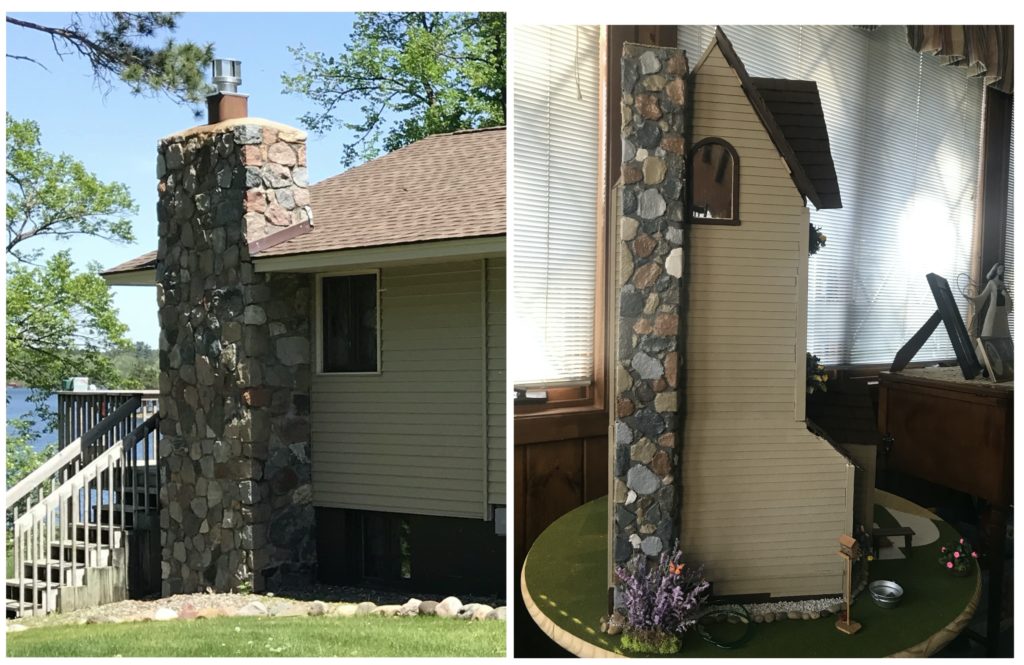 When I was three years old, my Grandparents adopted 5 ducks and 2 geese as pets. Frick & Frack, Huey, Dewey & Louie, Step-and-a-half and Mellow Yellow followed me around the farm as tiny companions.

Turtle races were a family tradition every summer. We always tried to catch our own turtle in the lake, and kept him outside in a metal tub until race day.
We celebrated my Grandpa's birthday each 4th of July, often with a Minnesota fish fry. The northern were always caught on Lake Ossawinnamakee and cleaned by Grandpa himself, who would then fry them out in the barn while Grandma made potato salad and her famous lemonade. There was also never a shortage of pie and other homemade desserts.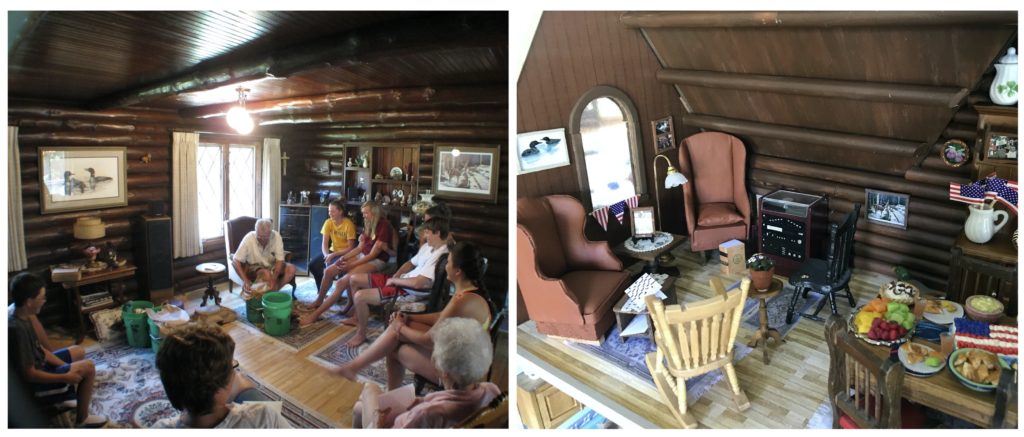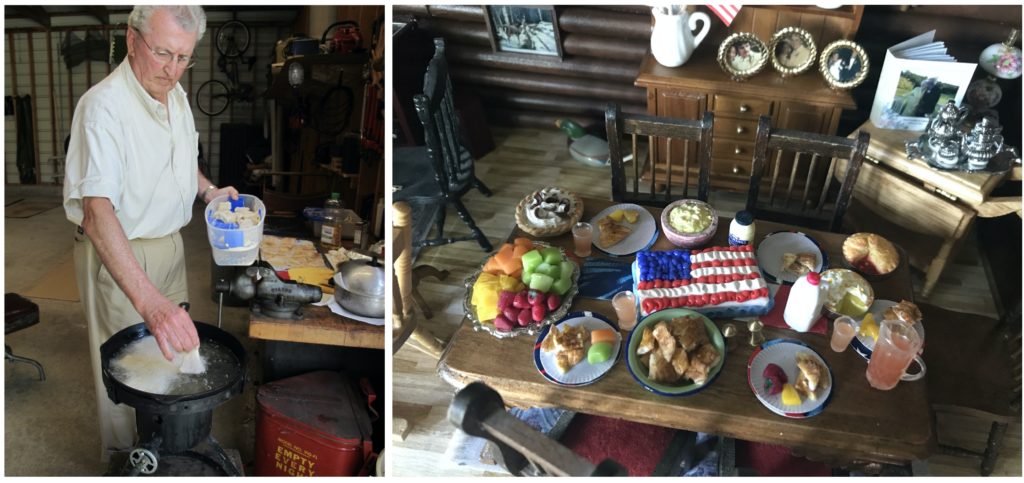 We loaded up the old garden cart with a cooler for pop (Oh, Minnesota), life jackets, towels and noodles for afternoons spent down at the lake. Swimming, skiing, tubing, pontoon rides and splashing around on shore filled many of our summer days.

Easter weekend was filled with dying eggs, easter egg hunts in the yard, and searching for the giant chocolate bunny the Easter bunny left on Sunday morning.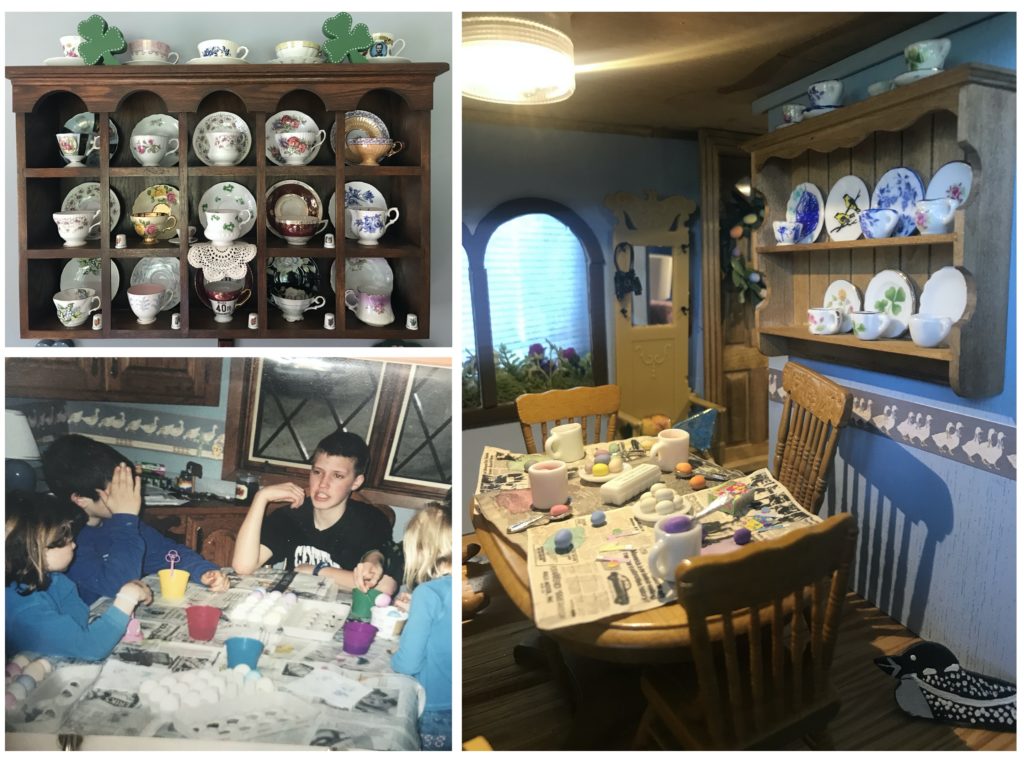 Grandma and Grandpa sitting in the blue loveseat in the sunroom. The (tiny) windows show a photo of the actual yard, and bug jars and butterfly nets were often laying around after my cousins went searching for bugs and worms.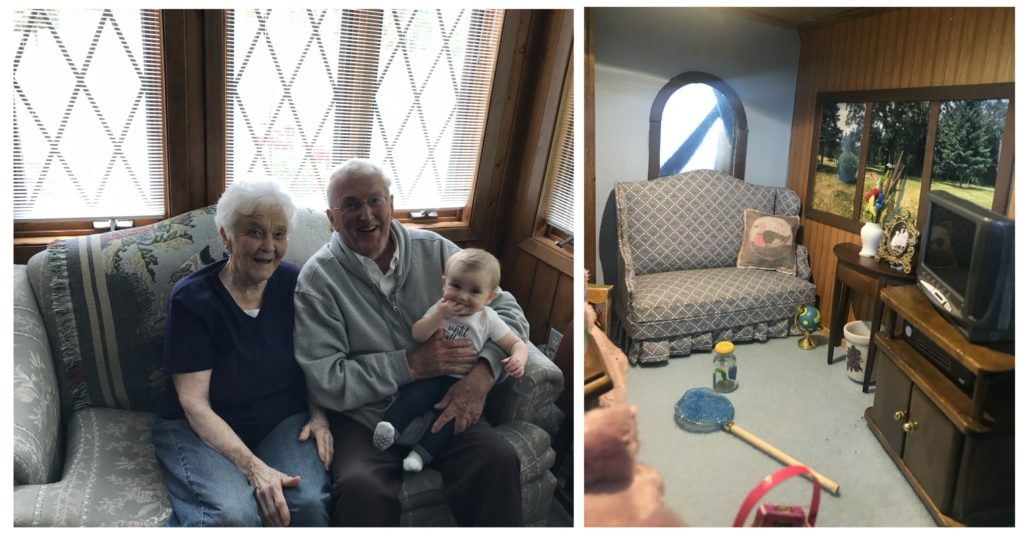 My Grandparents used to run a Christmas tree farm, and starting Thanksgiving weekend families drove up the driveway with $10 to cut down their own tree. Each year my cousins and I took a turn cutting down our family tree. Everyone bundled up to walk through the tree farm where the lucky grandchild would saw the base while everyone else offered advice and cheers when it finally crashed down. We gathered around for a family photo before dragging the tree back to the house. Santa hats were donned to decorate the tree while Grandma handed out ornaments, lights, and garland. Gifts were exchanged, hors d'oeuvres adorned the pool table, and family games were played into the night.
My vision for this project evolved multiple times over the past few months, and I wasn't always sure what it would look like – or if I would ever finish it. During this difficult season it was a welcome refuge to frequently reflect on what it was like to grow up at my Grandparent's house. Aside from the joy it brought during construction, the best part of this makeover was bringing it up to my Grandparent's house for the big reveal. My Grandma got out a flashlight as they took a tour through the tiny rooms. Every time I have talked to them since, my Grandma shares something new she has discovered or her favorite tiny detail. I am excited for the rest of my family to see it and walk down memory lane.
Cheers,