Just because you are throwing a kids birthday party doesn't mean you need to serve pizza, juice boxes and cupcakes with icecream. We've gathered up some of our favorite party food options from past parties to give you ideas for healthier, kid friendly food that will please both adults and party goers.
MAIN COURSE
Mac & cheese is a favorite children's food and it can be healthy too!  We've made these mac & cheese muffins for several parties and it is always a big hit.  Using whole wheat pasta, low fat milk & sharp cheddar cheese (ours were also all organic), these mac & cheese muffins have about half calories and fat of a traditional baked mac & cheese recipe.
Kids will love being able to eat mac & cheese with their hands.  The recipe can also be made ahead and then reheated the day of the party.  And don't forget because they are muffin/cupcake shaped you can wrap them in a liner (after baking) that coordinates with your theme! We also love any excuse to use our cupcake stand.
We served grilled cheese sandwiches and tomato soup at a Frozen Birthday Party.
Replace soda and juice boxes with milk, like we did at this Hello Kitty Birthday Party.
SNACKS & SIDES
Things like fruit kabobs and healthy crackers like goldfish and Annie's Cheddar Bunnies are perfect for your next party. Set food out and lets kids munch throughout the party.
We set out 'Dorothy's Goldfish' at a recent Sesame Street Party.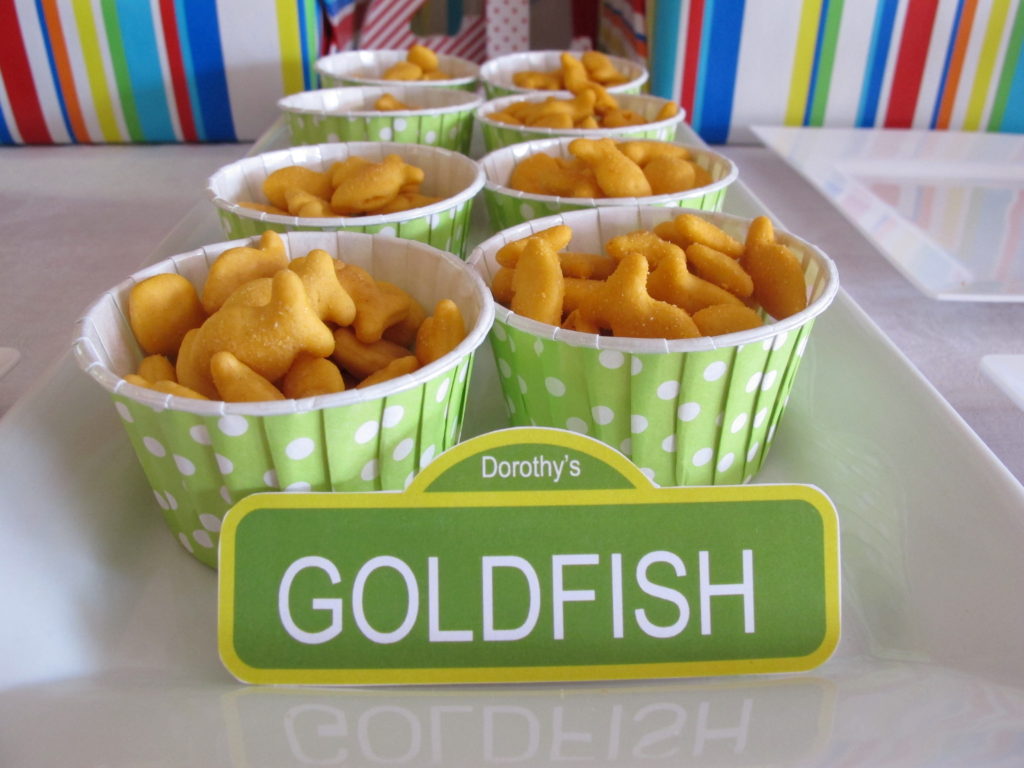 Chocolate covered strawberries from an Ocean ONEderland Party are a good alternative to candy or other sweets.
This 'confetti' fruit salad was a big hit at a Cupcake & Confetti Party.
Colorful fruit Kabobs are fun for all!
Popcorn was the perfect snack for a Circus Party.
DESSERTS
Instead of setting up an ice cream sundae bar set up a parfait bar.  Set up a few different flavors of yogurts  and then don't skimp on toppings.  Just about anything can go in a parfait: cereal, fresh fruit, dried fruit,  granola, sprinkles, marshmallows, candy or cookie pieces, just about anything you have in your fridge or pantry.
Kids will love making their own colorful and delicious creations and they won't even notice they're not eating ice cream!
Another fun dessert option is rice krispie treats.
Happy Planning,